Gala Presentation 2015 – Special Anniversary
Thurso Amateur Swimming Club gala presentation 2015 – held in January 2016.
This year's gala presentation was made more special as it also celebrated a special anniversary for the club.
Mr Ed Adam OBE, honorary president of TASC who presented the medals and trophies, is now in his 40th year as a referee for TASC and we wanted to make sure he knew that everyone at TASC knows how lucky we are to have had his support, experience and knowledge as a club member for the past 48 years and as a referee since the 11th December 1976.
Old records show that on the 23rd November 1970
"Mr E Adam was appointed by the TASC committee to take charge of the arrangements for all Galas"
highlighting Ed's involvement from the very first TASC club gala – who knows if Ed had not taken charge at that time then we may not be here tonight celebrating the achievements of all these fantastic swimmers. The gala has been in its current format since 1991.
In the beginning, Ed and his wife, Ann, were like most TASC volunteers, interested and supportive parents of budding swimmers. Their children Lynn, Janice and Brian all swam for Thurso and their names are on many of the trophies presented each year. And things progressed from there…..
Over the years Ed has held many positions within the club – President, Judge, Starter, Announcer, AOE operator, Coach, and of course referee, and further afield, Swimming Convenor for the Highland Area and North District President, to name a few. He was also the chair of the Scottish Amateur Swimming Association (SASA) editorial board which introduced a model constitution for all Scottish swimming clubs based on the Thurso model – so his experience has helped to shape not only the opportunities of our own swimmers but the development of swimming clubs and the sport across Scotland.
Ed was also very active in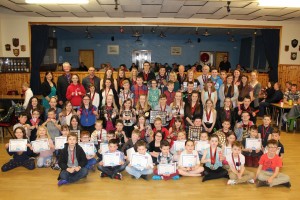 promoting the life-saving awards and the development of life-saving skills within the club for many years.
Ann gave Ed support in his roles but also volunteered for the club in her own right -chief pancake maker at all coffee mornings , catering convenor at the annual Thurso Meet, time-keeper, and she was also responsible for ordering medals and swimwear at various times too. Ann has been one of our life-members since 1986.
Some of TASC's life-members provided the following memories of Ed –
"we are so lucky to have had Ed's input for so many years – we are all prepared when we go away to officiate or compete and that is largely due to the high standards of swimmer and official we produce here in Thurso as a result of his guidance and experience"
"in 1978 Ed was stuck at the Navidale House Hotel for several days due to a snow drift at the Ord because he had 'nipped' down to Aberdeen and Stirling to attend a district and a Scottish Swimming meeting"
"I remember when Ed would stay with the rest of us in church halls and he turned over on his camp bed and the material ripped"
It is hoped this short round up of some of Ed's achievements helps anyone new to Thurso Amateur Swimming club to understand how vital to the club's success Ed Adam has been and we hope he will continue to volunteer locally for us and advise us for many years to come.
In recognition of Ed's achievements, Emma Budge, TASC's most senior squad swimmer, presented him with a token of the club's appreciation – a bottle of Famous Grouse whisky bottled at the Glenturret distillery, distilled in 1986, the year Ed Adam officiated at the Commonwealth Games in Edinburgh.
The notes on the bottle say "The Famous Grouse believes there's a joy in participating in something bigger than ourselves – of being part of something famous…" Of course this was meant in relation to the 2014 Commonwealth Games but we at TASC believe that this is the spirit you have shown over your life-time of volunteering for swimming in general but specifically for TASC and we hope most sincerely that you will enjoy this award – every last drop.
Ed received a standing ovation from all present.
Shirley Bain
President – TASC