Pool Re-Opening Celebration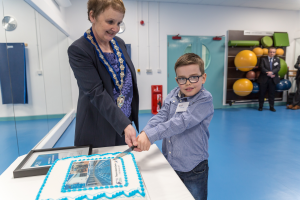 As the youngest current member of TASC at the end of 2016, Matthew Cook (6) was chosen to take part in Thurso Leisure Centre's official re-opening following its extensive refurbishment in February 2017.
Matthews great Gran (Ida Nicholas) was the first lifeguard in Thurso and worked at the pool from when it opened in 1967 until she retired at 65 in 1987. Matthews great uncle, Malcolm Nicholas, his aunt Carolyn Riddle (nee Coghill) and her husband Jamie Riddell also all worked at the pool over the years.   His mum Michelle Cook (nee Coghill) also swam for TASC, competing at District and National level. His three aunts, his uncle and various other family members have also been or currently are TASC members.